Panama City, just to the east of both Destin and the Beaches of South Walton, has been recognized as one of the fastest growing communities in the country. Economically anchored by an active military community and a vibrant tourist season, Panama City has been expanding and growing at break neck pace. With twenty-seven miles of family friendly beaches, Panama City provides both residents and visitors with plenty of opportunities for fishing, shopping, eating, and relaxing. Panama City is the Gulf Coast community that never sleeps, and this new growth and development are some of the reasons why.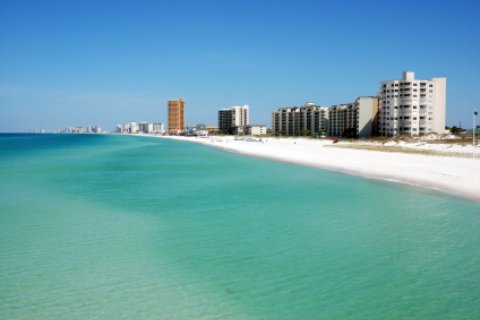 Developed around St. Andrew's Bay, Panama City has real estate options for every lifestyle and budget. You'll find classic Florida Cottages, Caribbean influenced resorts and condominiums, and European inspired luxury homes. With six premiere golf courses, you'll always be "on par". The exclusive Shark's Tooth Golf Club is located within the Wild Herron Neighborhood, along the banks of Lake Powell. Bay Point, along the shores of St. Andrew's Bay, is a self-sufficient and self-contained multi-purpose luxury neighborhood with more than 700 homes, and 600 condominium units. Bay Point is home to a full service marina, two golf courses, a high-end Spa, and a number of restaurants. Home to the Hombre Golf Course, the Edgewater Resort has Gulf Front High Rise Towers, Midrise Towers and golf and tennis villas. Whether you play golf, tennis, or prefer to hike, bike, or swim, you will find plenty of options designed to keep you active.
The new Beaches International Airport is a driving force behind Panama City's growth. Served by both Delta and Southwest Airlines, travelers can find daily flights to Orlando, Atlanta, Baltimore, Memphis, and Houston. The new airport has opened up this destination to many parts of the United States not familiar with Northwest Florida and its beautiful beaches.
Both tourists and locals alike take advantage of the shopping, dining, and entertainment found at Pier Park. This 9,000 square foot facility is home to a dog friendly beach, a movie theater with 16 screens, national restaurant chains and local favorites, as well as 124 stores, including Dillard's, Target, Forever 21, and a number of locally owned boutiques and shops. Pier Park is also home to Russell-Fields Pier, also known as the City Pier, a great place to watch the sunset or try to catch dinner. Throughout the year, Pier Park hosts a number of special events and a spectacular fireworks show.
Panama City, known as a spring break destination, is diversifying, making it one of the fastest growing communities in Northwest Florida. If you are looking for paradise with growth potential, you need to consider Panama City. It is a great community to raise your family, serve your country, practice your golf swing, or work on your tan. Whether you are looking for a luxury home with sweeping gulf views, a condominium within walking distance of shops, restaurants, and entertainment, or a home in an established neighborhoods to meet the changing needs of your family, you'll find your perfect piece of property in Panama City.